University of Cologne again awarded TOTAL E-QUALITY for equal opportunities and diversity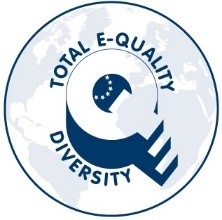 The association TOTAL E-QUALITY Deutschland e.V. has awarded the University of Cologne the Total E-Quality title for the fourth time, after 2004, 2007 and 2014. "The leaders of our award winners* have recognized that equal opportunities and diversity, which are lived and firmly anchored in the organization, lead to greater success. They present themselves as forward-looking role models in our society," said Eva Maria Roer, Chairwoman of TOTAL E-QUALITY Deutschland e.V., at the award ceremony in Stuttgart on 31 October 2018.
The University of Cologne was one of 50 organisations from the fields of business, science, administration and associations to receive the award for its future-oriented, successful and sustainable human resources policy. It thus actively and demonstrably works towards the elimination of existing disadvantages. In its statement, the jury positively emphasizes "that institutional frameworks have been created in the area of diversity and numerous diversity initiatives are already being implemented. The main goals in the implementation of equal opportunities (...) are strategically anchored, among other things, in the "Guidelines for Equal Opportunities" agreed jointly with several regional institutions. In recent years, the existing structures (...) have been expanded (...) and, above all, strengthened by tailor-made measures (...)".
Every year, the TOTAL E-QUALITY Deutschland e.V. association honours organisations that have made a sustained commitment to equal opportunities. TOTAL E-QUALITY Deutschland e.V. has been awarding this distinction for over ten years and has extended the 2015 award to include the topic of diversity and awarded the Add-On Award for Diversity for the first time. To date, more than 316 organisations have received awards and 87 have been recognised for their exemplary commitment to diversity. Approximately 2 million employees and about 900,000 students in the award-winning organisations benefit from a human resources policy based on equal opportunities.
Contact:
University of Cologne
Dr.' Britt Dahmen, Referat Gender & Diversity Management
Phone: +49 221 470-5907
E-Mail: b.dahmen(at)verw.uni-koeln.de
www.vielfalt.uni-koeln.de

TOTAL E-QUALITY Deutschland e. V.
Manuela Butkus
Phone: +49 9708 909-110
E-Mail: info(at)total-e-quality.de
www.total-e-quality.de